Help
Back to sign-in
Logging in to AvalonAccess
If you already have an AvalonAccess account simply enter your email address and password and click "Sign In." Note that the login email address must be the same as the address we have on record. As a resident you can verify this by contacting your community office.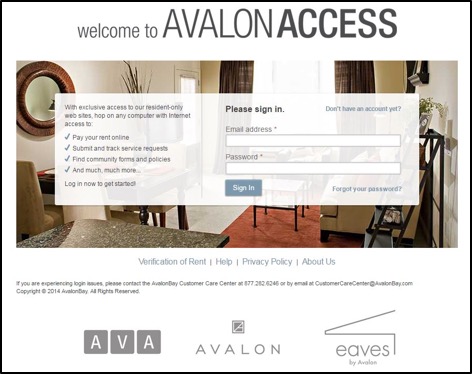 Setting Up an AvalonAccess Account
If you have not set up an AvalonAccess account, please click the link titled "Don't have an account yet?"
The first time you log in, you will be prompted to set up your security questions. We recommend answering your security questions right away. If you forget your password, this will allow us to verify your identity faster, and enables you to easily reset your password without further assistance.
In order to create an AvalonAccess account, you must enter the following information:
Email address (this must be the same address that we have on record)
Your community (e.g., Avalon Pasadena, eaves San Jose, etc.)
Your account number (your account number is located on your lease agreement & monthly statements.) If you need assistance locating your account number, please contact your leasing office or our Customer Care Center.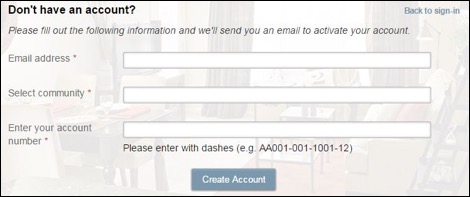 When all information has been entered, click "Create Account."
Retrieving a Forgotten Password
If you have forgotten your password, please click the link titled "Forgot your password?" on the log in screen.

On the next screen, enter the email address associated with your AvalonAccess account and click "Send Me the Link." You will be emailed a link to reset your password.